lisa
Lisa L wants to take her money! So give her all of your money you have at home! Then you will lick her sexy boots clean and she will go away! See you next time again!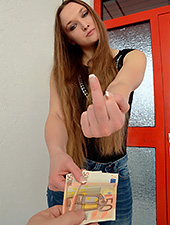 Great pictures and a hot pov femdom video:
Horny girl Lisa doesn't know what she should do with you! You have a really small penis and she doesn't like a little dick! You are only able to be her moneyslave! So look at her great ass and give her your money!